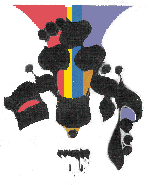 INDIANAPOLIS HEBREW CONGREGATION
Welcome to the Indianapolis Hebrew Congregation (IHC) Web site. IHC is a place of worship, celebration, support, fellowship and education.
"You shall be holy, for I, the Lord your God, am holy." (Leviticus 19:2) This command has been expressed through the use of
several Kidushim plaques in the sanctuary, but none so dramatically than the one gracing the doors of the Holy Ark. That
beautiful polished bronze piece is a representation of Mordechai Rosenstein's "You Shall be Holy," shown above. The essence of God's command is to be "different" because God is "different." That difference is the Reform Jew's and IHC member's defining concept, in leading a life fulfilling as many of the mitzvot as one is capable.









IHC is affiliated with the Union of American Hebrew Congregations